The festive season is fast approaching and I'm finishing up on all of the present buying for the family, (well, I have to say that the majority of it has been done by my lovely 'other half') and my musings are returning to what to cook for dinner on Christmas Day. The obligatory Turkey is a must, the kids would never forgive me if I didn't give them slices of Roast Turkey on their plate (I'm trying to get them to convert to the more flavoursome goose, without any luck), plus a boiled then roasted ham joint.
For the Side, I'm looking for different things to go with the ubiquitous Goose fat Roasted Spuds, so have been dipping in and out of the various Christmas themed cookery programmes that have been on over the last few weeks for inspiration and have come up with the following:
This Potato and fennel bake from Hugh Fearnley-Whittingstall, would add a variety of taste to the meal and use some of those fennel bulbs that seem to be going cheap at the moment. It's a simple side dish that can be pre-prepared up to the final roasting and popped in 30-40 mins before dishing up time.
I'm going to be cooking my favourite Brussels Sprout recipe, you've just got to have them at Christmas
This recipe combines the humble Brussels with the wonderful saltiness of pancetta and deep sweet notes of Marsala wine and sweet Chestnuts
I also cook way too many Sprouts as the make great 'Bubble and Squeak' to go with the cold meat on boxing day
December is also slap bang in the middle of the parsnip season and their sweets citrus notes is a highlight of any roast.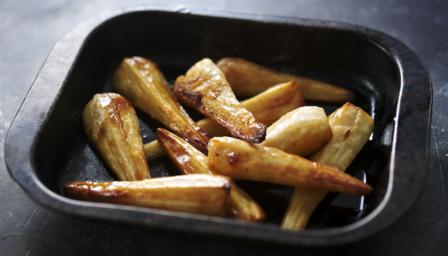 Nigella Lawson's Maple Roast Parsnips have a smoky-sweet flavour that everyone will adore, I'll get hold of some young carrots, scrubbed and the stalks clipped leaving about a centimetre of green and pop those in too.
To add a splash of colour to the meal, it'll have to be the red jewel of the season the beetroot. Not just the preserve of the Boxing day fry up as a pickled accompaniment, roasted, it makes a cracking side dish too.
My favourite Roasted Beetroot recipe adds a splash of balsamic vinegar and thyme to give a sweet Herby background to this versatile vegetable
The kids just love Cauliflower Cheese and this recipe hits the mark, it's easy and quick
BBC Good Food provides a brilliant version of the standard British classic of Cauliflower Cheese, just pop it in when you've taken the roasted meat out to rest.
With the addition of some decadently out of season boiled new potatoes and small sweet 'Petit Pois' I think that selection of sides will fill the table as well as 'the bill' for my side dish requirement for my Christmas dinner.